Looking for something to use your leftover shredded chicken? Look no more. These Creamy BBQ Chicken Egg Rolls were so good that my son was eating them up before I could take the pictures!
Creamy BBQ Chicken Egg Rolls
Print recipe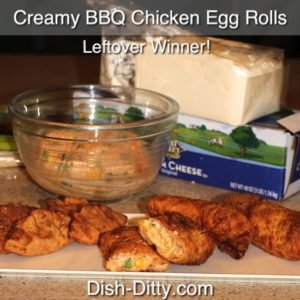 Ingredients
1/4 cup bbq sauce
1 cup cream cheese (softened (or more as needed))
1/2 teaspoon ground black pepper
1 teaspoon salt
1/2 teaspoon cayenne pepper
2 cups cooked shredded chicken (leftovers)
2 cups frozen mixed vegetables (thawed and drained - room temperature)
1 Package egg roll wrappers
Directions
Step 1
Preheat vegetable or other frying oil in a deep pan or deep fryer. Oil should be set at 325 degrees.
Step 2
This is a LEFTOVERS recipe, so remember that these are guidelines NOT requirements. I started with shredded chicken that already had bbq sauce mixed in. If you have that, great. If not, start by mixing the BBQ sauce with the chicken.
Step 3
In a medium bowl mix the cream cheese, bbq shredded chicken, salt, pepper and cayenne pepper. Once mixed in, stir in the thawed vegetables.
Step 4
Use the above mixture as a filling for the egg rolls or wontons. For the wontons, you can omit the vegetables. This is a good example of how to roll the egg rolls. https://www.instructables.com/id/How-to-roll-Egg-Rolls/
Step 5
Fry in oil until golden brown and drain on paper towels. Serve hot.
I have to start with an apology. I apologize that these are so decadent and fattening and that one will just not be enough.
When I had a ton (yes, a literal ton) of bbq shredded chicken, I was looking at what I could make with it. Salad? sure. Pasta salad? ok. Quesadillas? um, maybe. They all seemed ok, but I was getting tired of it so I wanted something completely new but using what was in my refrigerator. I had a ton of cream cheese and some egg roll wrappers, and the rest just fell together.
So, try them or not, either way, Enjoy!
---