I had always wanted to try to smoke a turkey, so this year I did.  It was fantastic!  I will definitely be doing this every year as it was so tender, juicy and delicious.  The smoke flavor was not overpowering but just gave a perfect hint of smoke.  If you want more smoke flavor, smoke your bird for longer at a lower temperature before increasing it.  Always end at least the last hour on a higher temp to make sure the meat is safe to eat.
I'm also including the turkey injector marinade that I created for my smoked turkey. You can use that marinade or another one of your choice.  One of my friends just mixes italian seasoning and white wine together and strains it for his injector marinade.
Smoked Turkey
Print recipe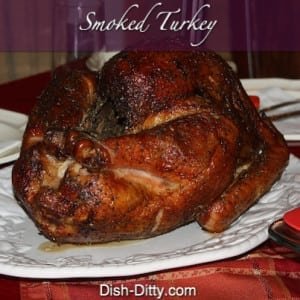 Ingredients
Injector Marinade
Turkey (16-18 pounds)
Olive Oil
Kosher Salt
Black Pepper
Herbes de Provance
Directions
Step 1
Rinse and dry your turkey.
Step 2
Inject turkey with injection marinade.
Step 3
Rub olive oil all over turkey and in the cavity. The sprinkle the salt, pepper and herbes de provance, rubbing in the spices all over the turkey.
Step 4
Place in open roaster and smoke for 1.5 hours at lowest smoke temperature. My smoker is at 200 degrees.
Step 5
Increase temperature to 300 and smoke until turkey thighs and the thighs reaches 180 degrees.
Step 6
Remove and let rest for 30 minutes. Cut and serve.
Turkey Injection Marinade
Print recipe
Ingredients
1/2 cup Butter
6oz Beer (Stella Artois)
2 teaspoons Garlic Powder
2 tablespoons Kosher Salt
1 heaped tablespoon Honey
1 tablespoon Soy Sauce
Directions
Step 1
Combine in small saucepan and bring to a boil. Remove from heat and let cool for about 1 hour before injecting into bird. The marinade should be at room temperature.

If refrigerating marinade, bring it to room temperature before injecting. You can do that in the microwave if needed, but be sure the marinade is at room temperature when you inject it.